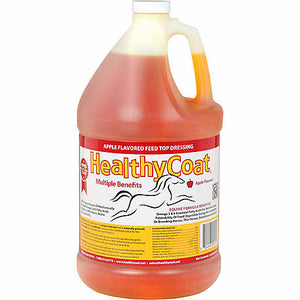 HealthyCoat for your Horse
HealthyCoat is an all-natural Omega 3 & 6 liquid feed supplement formulated for your horse. It's easy to implement and acts like a top dressing, but goes well beyond just achieving a "healthy coat". It works from the inside out to improve the performance, condition, overall health, and musculature of your horse.
Our unique formula is processed naturally and without heat to preserve the raw, vital nutrients that break apart during normal feed processing. Due to this process, HealthyCoat is fortified with naturally occurring biotin, B12 and lecithin. It also contains raw vitamin E to aid in the absorption of fat soluble vitamins allowing your horse to get the most from their diet.
Top dressing feed start gradually with 1 - 4 oz for an average adult horse. With active horses or difficult skin coat needs, you can feed up to 8 oz.
​
Remember when supplementing a new product to start with lower volumes and gradually increase volumes as your animal is on the product longer.
Store your HealthyCoat products where they are out of direct sunlight.  For best results, shake gently before administering to your animal's feed, as settling may occur.
Total fatty acids/crude fat, minimum.........98%
Unsaponifiable matter, maximum................2.1%
Insoluble Impurities, maximum......................1.0%
Free fatty acids, maximum.............................0.50%
Vitamin E, minimum....................................250 IU/lb
Niacin, minimum...............................34,000 mcg/lb
Biotin, minimum..................................5,000 mcg/lb
Vitamin B12, minimum...........................337 mcg/lb
Moisture, maximum............................................0.50%
Linoleic acid, min. (Omega 6 fatty acid)......50%
Linolenic acid, min. (Omega 3 fatty acid)......7%