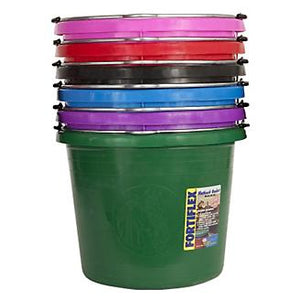 Fortiflex Flat Back Bucket
Made with a Fortalloy rubber-polyethylene blend for exceptional strength and toughness even at low temperatures, the Fortiflex Flat Back Bucket has multi-functional uses around the barn and house, including watering, feeding, maintenance, and general purposes. Thick wall construction and heavy-duty galvanized fittings ensure long lasting durability.
Note: Horse image does not show on buckets. We are in the process of updating our photos. We apologize for any inconvenience.
Features:
Capacity markings in quarts, gallons, and liters
BPA-free
Fortalloy rubber-PE blend resists cracking
Super strong flange with ribs for added strength
Resists collapsing from weight of liquids and normal abuse from horses
Bottom grip for easy pouring
Perimeter rim helps bottom of bucket from excessive scratching
Make into a wall bucket with Fortiflex Wall Bracket (item #SLT700565, sold separately)
Item Specifications:
Size:
15"D x 12.75"H
Capacity:
20 quarts / 5 gallons
Material:
Fortalloy rubber-PE blend