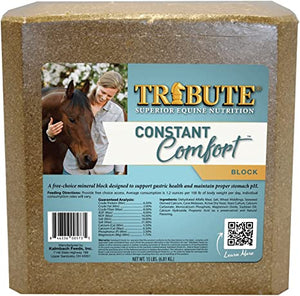 Formulated with Seaweed Derived Calcium to help maintain proper stomach pH.
Contains Aloe Vera, Glutamine and Lecithin, which can help soothe the stomach.
Added Equi-Ferm XL®, a pre- & probiotic, supports hindgut health.
When used together, the Constant Comfort™ gut health system offers your horse 24/7 support.
Tips for introducing this block:
- Horses will self-regulate block intake over time.
- To prevent over consumption when first introduced, offer the block after regular feedings and monitor intake.
- For horses consuming the block too quickly, offer it for short periods throughout the day and slowly increase offer time over several days.
Y9014BLK
PICK UP IN STORE ONLY