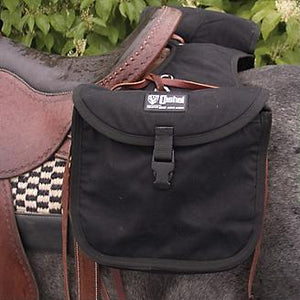 This Cashel Standard Rear Saddle Bag is extremely durable and one of the best saddle bags sold.  This rear saddle bag is very nicely built and is not one of those cheap units that will fall apart.... this is top quality!
         Cashel Company is a leading manufacturer of extremely high quality equine products and their saddle bags are no exception. The Standard Rear Saddle Bag fits close to the saddle thanks to the contoured shape around the cantle which makes is a lot more secure and better looking.
       The Cashel Standard Rear Saddle Bag also includes two compartments and are designed to carry all the necessities. The use of a PVC-lined pocket keeps food and beverages cold for hours and since they are removable they are easy to keep clean. The integrated grommeted holes are tough and strategically placed for easy attachment to almost any saddle.
         These rear saddle bags are constructed from heavy-weight nylon.  Cashel saddle bags are built to last and help you stay prepared and equipped to enjoy your ride and are a best choice for anyone wanted to go on a longer ride.
Tough Heavy Weight Denier Nylon

Removable PVC Lined Pocket keeps food and drinks cold for hours (ice packets not included)

top pocket flaps within bag keep items secure

11" w x 10" h x 4" d

SB-STD-BLA-II, SB-STD-BRN-II